Jesus said He would build His church, but He chose to do that through us. It's a divine partnership. His purpose and power, our calling and responsibility.
I often marvel at the fact that Jesus chose us, but I can see how it works.
The more we mature in our faith, the stronger the body of Christ, (The Church) becomes.
The stronger we become the greater our reach with the gospel of Jesus Christ extends.
The greater the influence of the church the more we can serve those in need.
The church is truly the hope of the world because it carries the truth of Jesus Christ, and the extension of God's love.
His intent was that now, through the church, the manifold wisdom of God should be made known to the rulers and authorities in the heavenly realms, according to his eternal purpose that he accomplished in Christ Jesus our Lord.  Ephesians 3:10-11
I honestly cannot think of a more challenging, more inspiring vision than to partner with God Himself to change the world.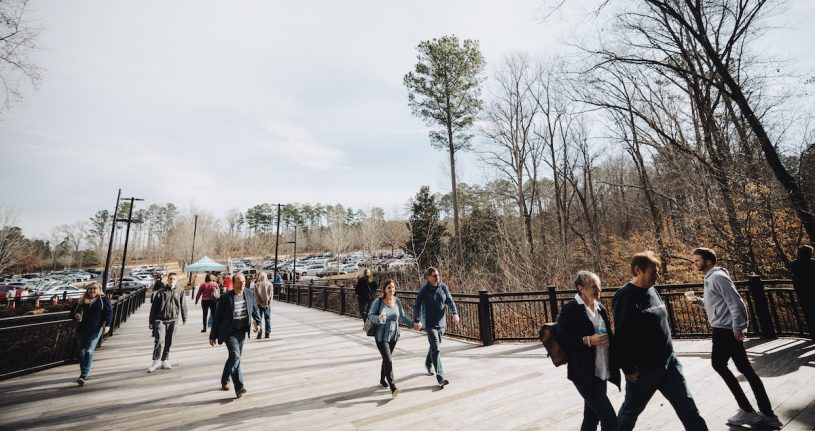 Yet, Monday arrives and reality hits.
How do we encourage first time guests to come back a second time?
How do we help a struggling married couple to decide against divorce?
How do we inspire enough volunteers to serve in the kid's ministry?
How do we help feed so many hungry and hurting people?
How do we handle conflict inside the church?
Suddenly it feels like we left the lofty vision of heaven and traded it for ministry that requires grit, resilience and courage. Like we traded glorious for grind.
Jesus never said ministry would be easy, but He did say He would always be with us.
That "with us" – that incredible partnership, (not an equal partnership but fully together), carries expectations.
Perhaps the idea of us having expectations of God is not fully appropriate, but we certainly have hopes founded in God. For example, we hope for His presence, power, favor and grace. We count on and trust His promises for these things.
And, Jesus does have expectations of us, the body of believers, His Bride, The Church.
5 Expectations Jesus has of His Church
1) Stand firm against the resistance that comes your way.   
There is hardly a week when we don't meet resistance against the progress of the church.
It can be anything from a key leader becomes offended and leaves the church to someone who has never attended is using social media to cause trouble for the church.
We get caught up in these things because we are responsible to solve them, but in doing so we can lose sight of something bigger going on – a spiritual battle.
It is natural for your church to experience resistance to making progress. There is an enemy and he doesn't want you to succeed, yet Jesus calls us to stand firm.
Ephesians 6:10-17 reminds us of the powers of this dark world and the spiritual forces of evil in the heavenly realms. It is clear about the spiritual amor needed to remain strong and stand our ground.
The Enemy would love for you to become discouraged and maybe give up, but remember that progress will always bring resistance. Stand firm, keep going.
2) Speak up with courage, wisdom and grace.
I find myself occasionally holding back when I think I should speak up. Do you? We should think before we speak, but we are called to speak up.
Jesus expects us to speak the truth about who He is with wisdom and grace.
It's not just on the platform that we are responsible to speak up but in group meetings and in one-to-one conversations. As the Holy Spirit prompts you, don't hold back.
It may be the wisdom in an idea you have or something you have concerns about. Find courage to speak up, in love and with grace, but speak up.
Is there something you need to say to someone that is in their best interest and because you care? What is holding you back?
3) Develop and exercise His gifts for His purpose
We've all received a few gifts that we've never used. I once received "soap on a rope" for Father's day. I just don't get how that idea ever went to market. Just exactly how is soap on a rope supposed to work?
Receiving a gift is wonderful but it needs to be the right gift for the right person. It fits who they are, it has a purpose, they love it and are grateful for it.
God has given us spiritual gifts, not randomly, but on purpose designed specifically for each of us. (Ephesians 4:11-12; Romans 12:4-8; I Corinthians 12:1-31)
Spiritual gifts represent the manifestation of God's Spirit within us. These gifts are unique abilities that imbue us with power, enabling us to fulfill the purpose that He has assigned us: to strengthen the body of Christ.
4) Embrace and pursue life by the Spirit
Ephesians 4:1-6 challenges us to live a life worthy of the calling we have received. A challenge that can be measured by unity over division in the church.
"Worthy" is an aspiration not always easy to live up to, and I'm ever so grateful that if I'm worthy, it's only because of His grace and Spirit within me.
We are blessed with specific manifestations of the Spirit. Love, joy, peace, patience, kindness, goodness, faithfulness, gentleness and self-control. These nine traits radically transform our leadership. (Galatians 5:22-25)
The fruit of the Spirit is gift of God that enables us to live and lead in such a way that draws others to Christ.
Thankfully we are not left on our own to "achieve" such a life, but we are invited to remain in the vine. (John 15:9-17)
The invitation to stay closely connected to Jesus is our lifeline. It's where we find peace, joy and a sense of meaning and value. From there we can aspire to live Jesus' hope for us to:
Worship God
Listen for His voice
Obey His commands
Remain in His Love
This is the pathway that enables us to love and serve others in such a way that the church becomes all its intended to be.
From there we can engage God's mission to make disciples.
5) Strengthen mature disciples and grow leaders       
The purpose of God has never been a mystery.
Then Jesus came to them and said, "All authority in heaven and on earth has been given to me. Therefore go and make disciples of all nations, baptizing them in the name of the Father and of the Son and of the Holy Spirit, and teaching them to obey everything I have commanded you. And surely I am with you always, to the very end of the age."

Matthew 28:18-20
It's up to us to continue to learn how to lead it better.
Evangelism and discipleship have always belonged together.
Discipleship without evangelism is ingrown.
Evangelism without discipleship is shallow.
Let me say it a slightly different way.
Ingrown discipleship lacks evangelism – discipleship was never meant to be passive.
Shallow evangelism lacks discipleship – evangelism was never meant to be the end of the process.
In fact, discipleship continues on to include leadership. We know that to be true by evidence of the spiritual gift of leadership and narratives of the New Testament church addressing issues of leadership.
The church needs good and Godly leaders to lead the way toward God's purpose for the Church, to reach the world for Christ.
"The church exists for nothing else but to draw men into Christ, to make them little Christs. If they are not doing that, all the cathedrals, clergy, missions, sermons, even the Bible itself, are simply, a waste of time. God became Man for no other purpose."

CS Lewis