What is the toughest thing you have experienced about reaching new people for Christ?
It's complicated, isn't it?
The good news is that we are all in this together as church leaders.
Here's why.
The one thing nearly all Christian churches have in common is the priority of reaching new people with the gospel of Jesus. But, equally, as common, most leaders would say that it's becoming an increasingly complex endeavor.
Multiple points of entry and engagement (online etc.) are needed and helpful, but they also add layers to the complexity.
But more so, it can literally affect how we perceive our leadership.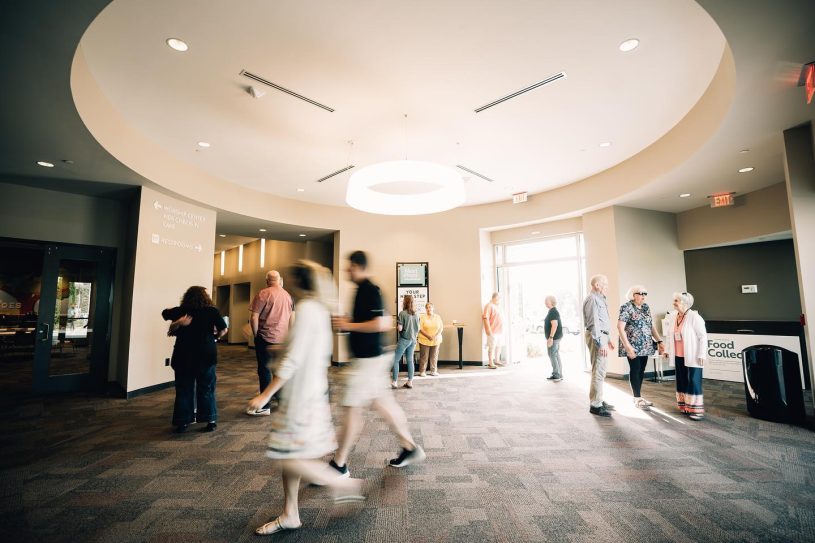 New people attending the church increases confidence in leaders. It strongly indicates that they are leading well, and that God's favor is present.
In fact, one of the most inspiring things in church leadership, perhaps second only to the moment someone says yes to Jesus, is a new person taking those brave steps into your church for the first time.
However, we must be careful about how we internalize the number of new guests.
Let's use these three questions:
How many new guests try your church a week?
How many are unchurched?
What percentage of any group of guests return?
How did you feel when you read those questions?
Pressure?
Encouraged?
Alone?
Grateful?
Discouraged?
Hopeful?
Questions like these often engender various emotions that can be interpreted as performance-oriented, perhaps a measure of our leadership, or even a reflection of our walk with God.
That is undue pressure.
While we must always be willing to evaluate our leadership, remember that there is much to ministry that we can't control.
Take responsibility? Yes. Does your leadership matter? Of course. But be careful of undue pressure from things you can't control.
The answers to those three questions may be easily quantifiable. Still, the art of reaching new people in a way that is genuinely life-changing for a lifetime is truly one of the most challenging endeavors a church leader faces.
I hope the following thoughts offer you insight, practical help, and encouragement.
The first three are external; they impact you from outside your church.
The next two are internal; they impact you from inside your church.
5 Reasons Why Reaching New People Is Increasingly Complex
1) Day-to-day life is more compelling and more demanding.
There are countless recreation opportunities, the family responsibilities are great, and the demands of people's jobs are significant. The combination of all three leaves little time for anything else.
In short, life outside church involvement is full. The fun stuff is a compelling draw; family is a top priority, and work is a demanding reality. We don't need to compete, but we need to be present, meet needs and serve well.
Don't try to out entertain, and be mindful about adding pressure.
As it relates to reaching new people for Christ, don't try to keep up with current culture. Instead, offer what the church was designed to offer. Focus on how you add value and meaning to their spiritual lives.
2) Current culture has introduced elevated challenges.
Some of the challenges are obvious and plain to see. Others are incredibly nuanced and deeply embedded; they are hard to discern.
Discerning current culture can be like swimming in the ocean and trying to comprehend all the water. You don't really see it when you are fully engulfed in it and busily kicking and paddling to stay afloat.
Yet, here are some things we can see.
There is a new apathy regarding the Church. It's not seen as a vital part of life.
The Church as an institution is regarded with less trust.
The elevated division outside the church is assumed within the church.
However.
Here's what we know:
The Church represents what is essential to a meaningful life and life eternal.
The organized Church stands on the truth that can always be trusted.
The Church proclaims Jesus is the hope of the world.
These truths are why we reach out to new people with great confidence, regardless of the complexities.
3) The "options" mindset has changed the playing field.
Just a few days ago, I listened to a dad talk about his adult kids who are Christians; they follow Jesus but are not part of any church. Instead, they regularly follow four to five churches online — every week. They listen to the messages and often take a few notes. The dad said he was happy about that but felt like having in-person relationships in one local church was conducive to spiritual growth. However, he was at a loss about how to offer guidance to his "kids."
High-quality and easily accessible Christian content is a good thing. Still, it can also present challenges when inviting people to connect in authentic and life-changing relationships within a body of believers.
I met a professional businessman who loves Jesus and physically attends church regularly. Three of them. On the one hand, I would never want to discourage his enthusiasm, but I also want him to see the value of a church family (a place to be known and belong.)
This can feel overwhelming to a church leader. It's easy to feel conflicted about how to best counsel people in a healthy spiritual direction.
First, add value to a person's life with no strings attached.
Always cheer a person on for any effort to grow as a Christian. Don't condemn their initiative; guide it. Then, when they know you care, offer spiritual guidance that you genuinely believe is in their best interest.
Principles to add value to others:
Love and kindness win the heart.
Respect and consideration engender trust.
Wisdom toward a more meaningful life inspires action.
4) We allow our pressures to inhibit our priorities.
The busyness of ministry can crowd out the purpose of ministry. So, what one thing can you do this week to focus on your top priority of reaching people?
We know the machine can take over the mission if we let it. Leadership pressures can derail us from our true priorities.
We want to reach new people, more people, hurting people, but it seems like the daily demands to keep the church going make it difficult to get there.
Three practical ways to help you focus on your priorities:
Simplify ministry to create margin for the needed time.
Second, practice the discipline to say no to the non-essentials.
Third, make a personal connection with someone new this week.
Regarding making a connection with someone new, don't overcomplicate it.
It may be as simple as taking time in your church lobby to meet a guest you don't know. It might be talking to a new neighbor and getting to know them better. Or perhaps you take the initiative to help someone in need.
5) We take responsibility for things we can't control.
Jesus made it clear that we are to take the message of Jesus into the world; that is clearly our responsibility. We are commissioned to reach people, but it's important that we do our part and let God do His.
Don't burn unnecessary energy with the things you can't control in leadership. You cannot make people's decisions and are not responsible for their actions. Instead, invest your time where your influence makes the most difference.
Trying to change what you can't control causes frustration, frustration causes distraction, and distraction wastes your time which lowers your leadership effectiveness. So instead, focus on where you can affect change.
Remember, keep it simple.
People inviting friends, neighbors, and co-workers is probably still the best approach to new people attending your church.
Welcome them, love them, and lead them well.
These days are filled with incredible potential to reach people!