Are your volunteer teams healthy and thriving?
Do you have enough volunteers to adequately lead your ministries?
What is your greatest pressure or challenge when it comes to your volunteer teams?
Most of the church leaders I'm talking with say their volunteers are amazing and they are so grateful for all they do. However, they're struggling, bluntly stated, to gain enough volunteers. Why do you think that's true?
I don't have the answer to that question but there are a few big picture factors I believe to be true.
Culture has changed
People view their time differently post pandemic
Habits have changed
Church is more an option than a lifestyle
Families are busier than ever
Yet, one thing that hasn't changed is the design and nature of the church to include and function with volunteers.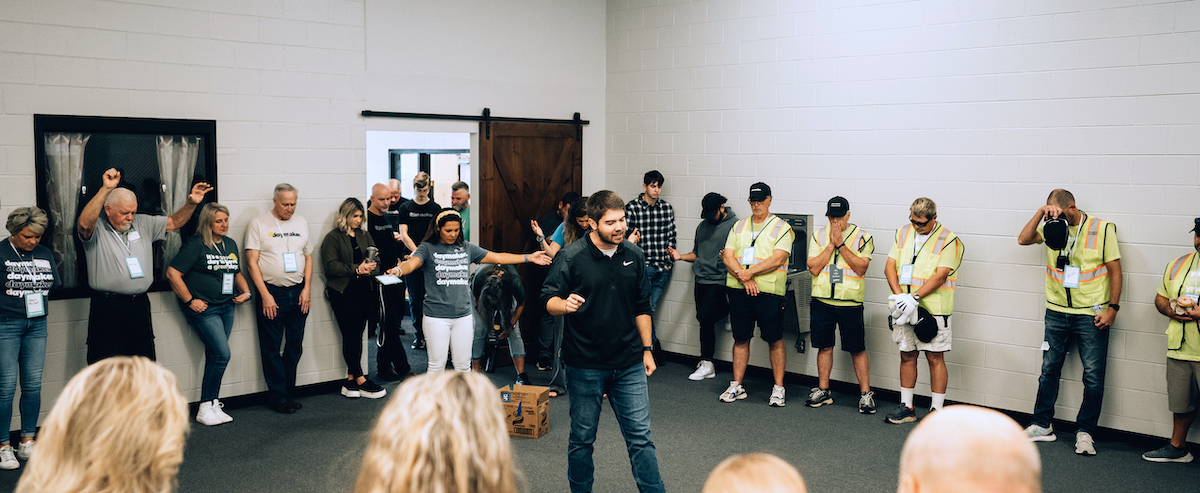 I sometimes hesitate to use the word volunteer. As the body of Christ, we are all called to serve. In fact, Ephesians 4:11-12, makes it clear that our responsibility as pastors is to help each person discover their gifts and ministry to build up the body of Christ.
But since we know what is meant by the term "volunteer," I'll keep this post clear by using it.
As a brief encouragement from me to you, please don't get discouraged about recruiting. It is challenging at times, I know, but God didn't bring you and your church this far without a plan, and this season hasn't caught Him by surprise.
My hope and prayer is that this post is helpful to you!
So, let's get practical about how to increase the size and strength of your volunteer teams.
1) Start with vision-based invitations
The heart of a church leader is always to love and care for volunteers, wanting more for them than from them. But on occasion the pressure for more volunteers can get the best of even great leaders.
We should never recruit volunteers with a sense of desperation to "get more help" as our motivation. Our pressure will leak and push people away. Instead, let's help them discover their purpose and invite them to a vision.
A vision-based invitation to join a ministry team creates an opportunity for each person to participate in something larger than they could create or sustain on their own.
Vision-Based "Recruiting":
(Note: the word recruiting isn't always the best word, but we shouldn't be afraid of it either. So, I'm using it interchangeably with inviting.)
Starts with a vision – Recruiting should never begin with a job description. That's important, but instead, cast vision for how people's lives will be changed.
Is based on spiritual gifting – Use a spiritual gifts test of your choice to help each person discover their God-intended purpose. This deepens meaning in each volunteer's life.
Is redemptive in nature – Knowing God's intended design for your life is intimately connected to salvation and spiritual maturity. He loves us so much He created us for a spiritual legacy.
Values people – An invitation to serve on a ministry team always communicates value to a person. Inclusion communicates love, acceptance, and significance.
Is strategic and empowering– Christians are certainly free to do ministry on their own, but nearly always, it's more powerful and produces greater results when part of a larger team.
2) Be aware of any potential hindrances to recruiting
Not wanting to "bother" someone – I have felt this many times over the years, thinking the person is so busy and I'm burdening them with more on their plate. That is faulty thinking. This is a biblical invitation to God's greater plan.

Don't hesitate to ask, and don't decide for the person, let them choose.
Failing to see potential – Be careful not to assume what a person can or can't do. You may be surprised by what God can do through a genuine invitation from your heart.

Practice seeing the potential in others through God's eyes.
Fear of being turned down – They might say no, and that's OK, take the risk anyway. If someone says no, continue to love and value them just the same. Don't take it overly personal. (I use the word "overly" because when you care it is personal, but it's not all on you.)

Don't let the fear of being turned down when inviting someone onto your ministry team cause you to hold back and potentially rob that person of an opportunity that could change their life and the lives of others.
A history of "invite and abandon" – A healthy environment or culture of teams and development is important to people seeing the value and the vision. If there is any history of recruiting and leaving the person to figure it all out on their own, fix that first.
Asking the same people again and again – This is a natural and common temptation. They are your wonderful go-to team members. But resist overloading volunteers at all costs.
3) Make a personal investment
There's a direct relationship between the quality of time and care invested in a new volunteer and how well they do plus how long they serve. The personal touch in your leadership investment really matters.
This doesn't necessarily mean an overwhelming amount of time, they are busy too. But a heart connection showing that you care and are grateful they're serving on your team makes a big difference.
The most meaningful investment you can make is to know each person who is directly under your supervision on a personal level. Find out, at appropriate levels, what's going on in their lives. Maybe there's a way you can be helpful, even in a small way, and you can always pray!
One of my favorite quotes comes to mind here:
"People don't care how much you know, 'till they know how much you care."

John C. Maxwell
4) Make training a top priority
Now that they know you care, it's time to show up with what you know and train every volunteer well.
Volunteers want to succeed in the area they serve, don't assume they know what to do or how to do it, train and equip them well.
Create the right environment for training volunteers in order to realize the best ministry results.
I'll be candid with you, I've visited churches where the training meeting for volunteers were last minute, ill-prepared, disorganized and the coffee and dessert was not good.
Think of how the volunteers feel in that moment. Not only has their time been wasted, but the unspoken communication is that they are not valued.
The phrase I use to paint a clear picture in my mind is, "Set the table well." Meaning, be very prepared and communicate that each person is highly valued. Don't waste their time, make sure the content is outstanding. And when they leave, they should feel even more excited to be on the team.
Qualities of effective volunteer training:
Relevant – Keep the training fresh and up to date.
Practical – Speak directly to the actual responsibilities of the volunteers
Inspiring – Connect the training to the vision.
5) Recognize the value of systems
It's easy to dismiss ministry systems as unspiritual, unfriendly and something that slows you down. When in fact, they help you become more effective so you can spend more time with more volunteers.
Three valuable benefits of systems in serving volunteer teams:
Systems help you stay focused on next steps.
When everyone knows the direction and the next steps to take, confusion and frustration can be eliminated, and progress increases.
Systems help you follow up more consistently.
A follow up process to track things like engagement, training, communication and outcomes is invaluable.
Systems help you scale your volunteer base.
Systems help you move from inviting one at a time to inviting many to find their purpose and make a difference!
I hope this post is helpful!!
Use it for discussion with your team leaders.