God is the Infinite and the Intimate. He is powerful and personal. He is organic and organized. This gives us insight and guidance to the organization of the church.
God hung not flung the stars into the sky, they are uncountable and breathtaking, they are artwork, yet in visible patterns that we can name and chart the skies by.
If a farmer scatters seed he can grow a crop. That's organic. If he organizes the seed, he can grow a crop 100X. We like intimate and organic, but organized and unlimited reaches more people. This is God's plan. How does this guide the church?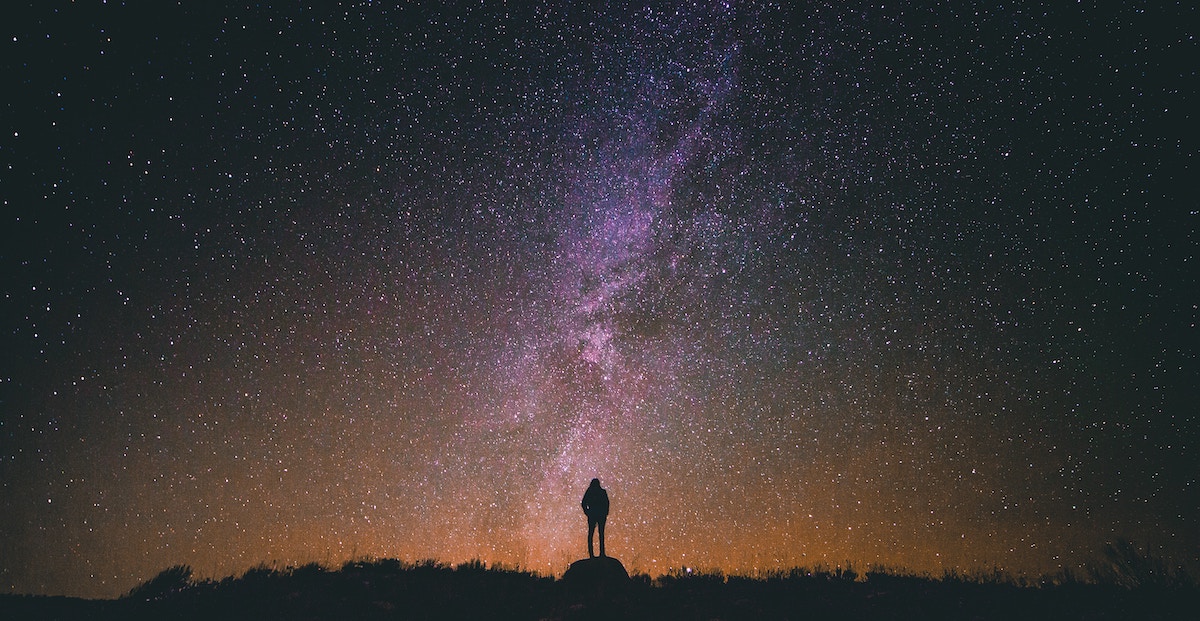 Each church begins intimate and organic. They start small. New churches start in living rooms with coffee. They start with a dream, but if we follow the New Testament mandate and model they organize and keep growing. It's not about how big, the point is to keep reaching people. (Keep growing.)
If the church loses the personal touch of intimacy, we lose integrity. If we lose a sense of generations and eternity (infinite), we underestimate what God has in mind.
We see the pattern of intimacy and growth in the book of Acts.
Every day they continued to meet together in the temple courts. They broke bread in their homes and ate together with glad and sincere hearts, 47 praising God and enjoying the favor of all the people. And the Lord added to their number daily those who were being saved.

Acts 2:46-47
Intimacy begins with the Father and is extended to the many.
Our walk with God and desire to be like Him informs the patterns of the Church in its healthiest state. The more we are like Him the stronger the Church and the greater the reach.
He has shown you, O mortal, what is good. And what does the Lord require of you?
To act justly and to love mercy and to walk humbly with your God.

Micah 6:8
I am the true vine, and my Farther is the gardener. 2 He cuts off every branch in me that bears no fruit, while every branch that does bear fruit he prunes so that it will be even more fruitful. 5 "I am the vine; you are the branches. If you remain in me and I in you, you will bear much fruit; apart from me you can do nothing. 8This is to my Father's glory, that you bear much fruit, showing yourselves to be my disciples.

John 15:1-2; 5, 8
The church began to organize and grew.
But many who heard the message believed; so the number of men who believed grew to about five thousand. Acts 4:4
Nevertheless, more and more men and women believed in the Lord and were added to their number. Acts 5:14
So the word of God spread. The number of disciples in Jerusalem increased rapidly, and a large number of priests became obedient to the faith. Acts 6:7
Then the church throughout Judea, Galilee and Samaria enjoyed a time of peace and was strengthened. Living in the fear of the Lord and encouraged by the Holy Spirit, it increased in numbers Acts 9:31
You get the idea.
Intimate and organized reaches more souls.
5 Ways to Carry the Nature of God Into the Organization of the Church
1) Exercise clear justice
Knowing the right thing to do and doing it are very different. To "act justly" in current culture can be difficult to discern and requires courage to take action.
The pressure of the many voices along with social media to amplify competing agendas can be overwhelming to the values of your leadership. But that's where it starts, knowing our true values. Without knowing our values that align with the heart and nature of God, we'll never find the courage to stand up for what is right. The conviction for justice comes from knowing we stand with God.
The nature of God is always just and we must intentionally lead and make decisions in a way that reflect who He is to the lives of those in our communities.
What tough question or decision are you discerning right now? What action is the right thing to do?
2) Extend unconditional grace
The core of God's nature is love and He generously extends grace. Not an undisciplined tolerance, but genuine favor and kindness from pure and unconditional love. This is the heart of the gospel and the foundation of the church.
God forgives and calls us to forgive one another as well. We who have received so much grace should not withhold the same grace from others.
That can be tough in a cancel culture full of division, suspicion and hate. But that's the great responsibility of the church, the body of Christ, to live out and point to a better way.
The love that God models always carries an element of sacrifice. In fact, there is no Church without sacrifice. Jesus established that reality on the cross.
Do you sense a generous heart of grace within?
3) Walk in authentic humility
No matter how many years I ponder this, it still blows my mind that God would humble Himself to the form of man, live with us, and give His life for us.
Who, being in very nature God, did not consider equality with God something to be used to his own advantage, rather, he made himself nothing by taking the very nature of a servant, being made in human likeness.And being found in appearance as a man, he humbled himself by becoming obedient to death— even death on a cross!

Philippians 2:6-8
Walking humbly is not without strength, we have the Holy Spirit within us. Yet the depth of our humility comes from knowing that we are not God, and bowing before Him while pursuing His will.
How do you assess personal humility?
4) Speak uncompromising truth
Candidly, speaking up and speaking truth as a spiritual leader is far more complex than as little as twenty or twenty-five years ago. In current culture, truth has become subjective and is essentially up for grabs.
How do we as the church uncompromisingly communicate God's truth without appearing judgmental or without love? This is one of our great responsibilities and incredible opportunities.
Honesty is a virtue we must cultivate in our leadership. That honesty in tough conversations paired with God's wisdom can change lives.
It's not in God's nature to contradict Himself. Absorbing His truth through Scripture and listening for His voice establishes our baseline for communicating truth.
The world is hungry for truth, it's our responsibility to help them see it and believe it.
How do you communicate truth in a way that doesn't diminish it, yet people can hear it?
5) Always joyfully serve
The revealing thing about being a servant is how you feel if you're treated like one. It's great to serve when it's our choice, but what about serving just because it's the right thing to do?
Consistently putting others first isn't easy. Sometimes we grumble, I do. How about you?
I do my best to follow the challenge in I Peter 4: 8-10, but I stumble.
Above all, love each other deeply, because love covers over a multitude of sins. 9 Offer hospitality to one another without grumbling.10 Each of you should use whatever gift you have received to serve others, as faithful stewards of God's grace in its various forms.

I Peter 4: 8-10
Putting others first isn't a project it's a lifestyle. It's amazingly challenging, yet it's the nature of God and the call of the Church.